Our People.
LODGE MANAGERS
James Hamilton and Liz Ziebarth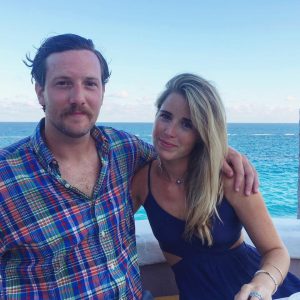 James brings diverse personal & professional experience to the table at Bairs Lodge. He was born & raised in Washington, DC and despite his urban roots has always had a close relationship and fascination with the natural world. James started skiing at the age of two, and first picked up a fly rod when he was 12 years old. Having lived all over the United States, most recently in Boston where he was lucky enough to meet Liz, he is very happy to be acclimating to the culture and lifestyle on South Andros. Professionally, James got his start in the financial services industry before leaving his job to found an outdoor travel company. He recently sold that venture, and prior to taking up his post at Bair's Lodge has been consulting with a number of organizations ranging from MIT Sloan to companies in the outdoor industry.
Liz was raised in rural New Jersey as the 5th generation on her family's farm. She grew up around avid flyfishermen, but wasn't thrown into a pair of waders until she met James. Their second date was on the Otter Creek in Middlebury, Vermont for a flyfishing lesson, and she's been hooked ever since. Liz went to Bucknell University for Opera and transferred to Berklee College of Music three years later to study songwriting and music business. She formed a folk-rock band called Dear June, for which she was the lead singer and manager. She produced two records, and toured nationally. She's still actively singing, though now more to the fish on the flats than the fans in the crowd.
OUR GUIDES
Leslie
Tee
Harley
Gary
Ronnie
Chris
Leslie Johnson / Head Guide
Leslie is a real Androsian and has been guiding at Bair's for 22 years—talk about a long time! He fell in love with fishing when he was a kid and what he enjoys most is the relaxing feeling he gets when he's on the water. He likes to describe himself as a fishy guy!
Theophilus "Tee" Flowers
Born and raised in Congo Town, South Andros, Tee believes that living and working in the Bahamas is a blessing and truly enjoys being on the water and meeting new people. He's passionate about teaching anglers new tips and techniques.
Harlon "Harley" Sands
Harley has spent his entire life in South Andros. He is one of South Andros' veteran guides and started fishing at a very young age. He enjoys the team aspect, the environment, the sun and water. Abaco guide Travis is Harley's son—so if you've met Travis, you'll know whom his huge smile came from.
Gary Francis
Although he was raised in South Andros, Gary came to us from Nassau. He's one of our long-standing guides and began apprenticing at the age of 25. He's also a natural born joker—and a natural born bonefish spotter—so you'll surely enjoy your time with him on the water.
Ronnie Bain
Proud of his country for its safety and opportunities, he loves everything about being a bonefish guide—but most of all meeting new people and sharing his experiences. With Ronnie, it's all about the water: bonefishing, offshore fishing and diving the island's amazing blue holes. So, just look toward the water and you'll find him!
Chris Bain
Chris has been working at Bair's since 2015. He loves the Bahamas for its easy-going vibe. Of course—what loves even more—is that it's the best bonefishing destination in the world. Chris also owns a local Bar. He'll be happy to fix you up some drinks!
OU

R HOUSE

STAFF
Valentino
Lisa
Lita
Michelle
Val
Darrell
Anston
Valentino Adderley/ Chef
Valentino was born in Nassau, but has lived in Freeport and in the Abacos. Having worked in the best restaurants around the Bahamas, his mastery of culinary arts has led to a love of experimenting with new dishes every season. Quick Valentino trivia: poetry is one of his other passions.
Lisa Sands / House Staff
Originally from Nassau, Lisa moved to South Andros less than 2 years ago and immediately fell in love with the place. At the lodge, she's in charge of keeping all our bedding soft and gentle to ensure our guests have a pleasurable night's rest.  Lisa is also the lodge's certified birthday cake lady!
Lita Johnson / House staff
Lita is a Bair's Lodge legend (she's been working here since before it was the Bair's you know today). She is cool, calm and collected, and loves warming hearts with her beautiful smile every evening. Lita is also our head guide's wife.
Michelle Pratt / House staff
It was love that brought Michelle to South Andros more than twenty years ago. Proud mother of a teenage boy, Michelle is a true team asset, keeping the lodge in tip-top shape for our guests. When she's not working, Michelle loves fixing hair, dancing and singing karaoke.
Val Carey / House staff
Val is also one of the veteran members of the Bair's team having worked with us since 2005. She has an incredible sense of humor and what she loves best about the hospitality business is the rewarding feeling of making an impact on somebody's life. At Bair's' she will delight you with her exquisite homemade bread.
Darrell Pratt / Lodge Maintenance
Darrell is a serious traveler and has lived on more than 40 Bahamian islands. He's also extremely energetic and makes sure the lodge is in perfect shape all the time. Darrell enjoys life and loves his job in hospitality. In his own words: "I come every morning happy to do this, I love meeting new people and give them all of me—they are like my family."
Anston Poiter / Boat and Lodge Maintenance
Anston is Val's son. Together with Darrell, he keeps the lodge functioning smoothly and spick and span. Recently, he's also become our boat mechanic. Anston loves the Bahamas for the freedom it provides and its laidback atmosphere. When he's not working—sometimes even when he is!—he loves listening to music.