Our People.
LODGE MANAGERS
Kelby Barchard & Samantha Fowler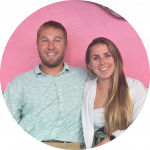 Before joining Bair's, Sam and Kelby worked and lived in North Andros. Both grew up in Florida and are at home on the water. From customer service to running boats, Kelby brings along a wide variety of experiences. He is a lifelong fly angler and all-around outdoorsman. If he's not fly fishing he can be found surfing, spearfishing, or hunting. Sam is also a lifelong angler with a passion for the outdoors. When she's not outside, she loves to cook, host, and create memorable experiences for those around her. Both love to travel and learn about different cultures.
OUR GUIDES
Leslie Johnson / Head Guide
Leslie is a native to South Andros, living his entire life on the island. He's been guiding for 30 years and has been with Bair's his whole career. Leslie used to duck out of school to guide bonefishing. It's clear that Leslie's has answered his calling. He is at home on the water. In the off season Leslie loves fishing for stripers in New England.
Theophilus "Tee" Flowers / Guide
Tee has been chasing bonefish on the flats with clients for 22 years. He got his start guiding at Bair's Lodge in 1997 and has been a loyal member of the team ever since. Tee was born and raised on South Andros, is an excellent teacher and very patient. Tee has very sharp eyes and can spot bonefish from a mile away.
Gary Francis / Guide
Gary grew up right here on South Andros. He's been guiding for 23 years and is our resident comedian. Don't let his light hearted demeanor fool you, he is a seriously fishy guide! Prior to joining the Bair's team, Gary guided independently in the South Bight and he loves a good Cuban Cigar.
Harlon "Harley" Sands / Guide
Harlon who also goes by Harley grew up on the fabled bonefishing grounds of South Andros. His son Travis guides at Abaco Lodge. Guiding is a family business for Harley and it's clear that it runs in his blood. Harley has been at it for 26 years. He's got a 6th sense for finding bonefish and a 7th sense for telling great stories!
Chris Bain / Guide
Chris was born and raised on South Andros and has been guiding for 17 years. He's the youngest of the group but Chris has a real knack for finding big fish. He's the total package. His brother Ronnie also guides for Bair's and together these two push each other to be the best guides they can be.
Ronnie Bain / Guide
Ronnie has been guiding for 15 years with 8 of those years at Bair's Lodge. Ronnie, brothers with Chris, is one of the best when it comes to running the boat, poling, and spotting fish. He's a world class guide and was born and raised right here on South Andros. He takes his craft very seriously but also has a great sense of humor.
Travis Sands / Guide
Travis was introduced to guiding at a very young age by his dad, Harley. He is by far the most energetic and enthusiastic of the guides. Extremely passionate about his job and without a doubt a great asset to the team. He guided for several years in Abaco Lodge and moved to Bairs this season. Abaco guide Travis is Harley's son—so if you've met Travis, you'll know whom his huge smile came from.
OU

R HOUSE

STAFF
Valentino Adderley/ Chef
Valentino was born in Nassau, but has lived in Freeport and in the Abacos. Having worked in the best restaurants around the Bahamas, his mastery of culinary arts has led to a love of experimenting with new dishes every season. Quick Valentino trivia: his is number one for "Call of Duty" in the Bahamas.
Lita Johnson / House staff
Lita is a Bair's Lodge legend – she's been working here since before it was the Bair's you know today. She is cool, calm and collected, and loves warming hearts with her beautiful smile every evening. Lita is also our head guide's wife.
Val Carey / House staff
Val is also one of the veteran members of the Bair's team having worked with us since 2005.She has an incredible sense of humor and what she loves best about the hospitality business is the rewarding feeling of making an impact on somebody's life. At Bair's' she will delight you with her exquisite homemade bread.
Michelle Pratt / House staff
It was love that brought Michelle to South Andros more than twenty years ago. Proud mother of a teenage boy, Michelle is a true team asset, keeping the lodge in tip-top shape for our guests. When she's not working, Michelle loves fixing hair, dancing and singing karaoke.
Lisa Sands / House Staff
Originally from Nassau, Lisa moved to South Andros less than 2 years ago and immediately fell in love with the place. At the lodge, she's in charge of keeping all our bedding soft and gentle to ensure our guests have a pleasurable night's rest. Lisa is also the lodge's certified birthday cake lady!
Gwen Coakley / House Staff
Gwen is a resident of Black Point, South Andros. She's in charge of prepping the boat lunches every morning and fixing up the rooms during the day. Gwen is married, with four beautiful children. She loves working with others, and visitors alike and also enjoys singing and worshiping God.
Sheila Bain / House Staff
Sheila is Chris and Ronnie's sister and is the latest addition to the house staff. Sheila is sweet, customer service oriented and loves meeting new people. At the lodge, she makes sure the rooms are spotless and helps with dinner service.
Fred Rolle / Lodge Maintenance
Fred was raised in Nassau, but decided to come to South Andros to move away from the busy city. He is an expert in landscaping and he'll make sure that the lodge functioning and spick and span. Fred also enjoys playing X-BOX and fishing.
BJ / Lodge Maintenance
BJ joined Bairs in 2019 and together with Fred he makes sure the lodge is in perfect shape all the time. BJ enjoys the quietness and laid back atmosphere of the island and loves playing sports. Name one, and he plays it! He loves the water and he would like to pursue a career in guiding in the near future.